Nargis Fakhri speaks her heart out!
She's a hoot to be around and tells it like it is. Nargis Fakhri, the half-Czech half-Pakistani stunner speaks from the heart about her life as the outsider in Bollywood.
"I'm thinking of getting a goldfish." That's Nargis Fakhri- deadpanning after relating how lonely it gets living on her own and not having any friends in B-town. For good effect, she proceeds to make what can only be called a 'goldfish face'.
Nargis talks with her hands a lot, is almost completely unself-conscious and amusingly selfdeprecating. She's also feeling a bit under the weather the day of the Women's Health interview-not that it's stopping her from being animated and warm. "My friends back in New York are always on the lookout for my power off button. I'm usually chirpier than this," she offers almost by way of apology.
Finding zen
Only one movie old, but the buzz around 32-year old Nargis has been as relentless today as it was before her debut Rockstar with Ranbir Kapoor hit the screens. "The media had already created perceptions about me by advertising that I was a foreigner," she says, adding, "You can't judge someone by what you see and read about. Unfortunately that's what happened here." Her first reaction was to cry. New to Mumbai and with no support system, she was already experiencing a severe case of culture shock.
"I wanted to punch people in the face. But I realised that people who hate me or hurt me are my biggest teachers," she says. She recognises, she says, that this comes with the job and being part of the industry she's in. Perhaps as a result of her struggle to make her mark here, she is full of praise and compassion for her fellow actors and actresses: "I mean, to be able to feel and then to experience all of this...!"
But if there's one thing that Nargis is sure of, it's that she won't slum it out if she's miserable. "I don't crave fame or attention; I don't need it. Really, you can keep it! I'm doing this because I believe that in life I'm given a challenge for a reason. For me, it's something I must overcome in order to grow as a human being," she says. And to her credit, she's doing everything she can to make herself "more Bollywood-ready". Her days are choc-a-bloc with Bollywood and Kathak dance classes ("My body doesn't move like an Indian woman's!"), Hindi class, acting classes and what have you. Her day (that begins at 8 am) ends at 11 pm leaving her feeling totally spent. She complains of not having time to chill out and relax. So what about the newspapers 'spotting' her at this party or that? "Oh yeah, they are making my life more happening than it actually is."
The newspapers are also busy hooking her up. "The other day they turned my friend's brother who was running with me in Joggers Park into my boyfriend!" she says exasperatedly. "I wish I was dating someone; that would be comforting." She pauses for a bit and then points to her (very attractive) face and bursts out, "Do you see this? I can't even explain it!"
Nargis' sense of humour is disarming and refreshing; whether talking about her belief in a higher energy ("Sometimes I want to ask God if I could get a refund, though. This ain't what I thought it was.") or her visit to Delhi ("I had four tubs of butter chicken and six naans. I thought I'd give birth to a butter chicken!") The light-heartedness has clearly helped her stick it out in a place where she sometimes feels as if she 'got the sh** end of the stick'. After all, she was doing perfectly peachy as a sought after international model.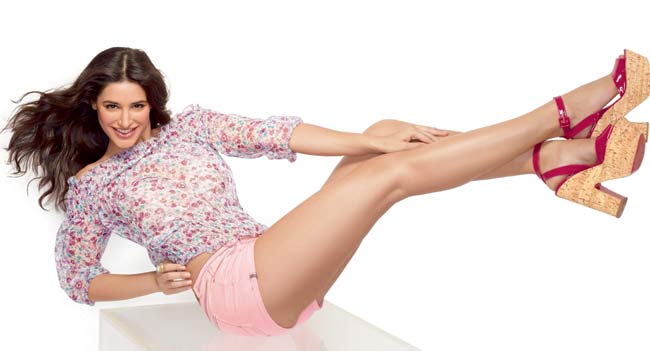 On a different plane
It was while she was working in Copenhagen as a model that she got an email from Imtiaz Ali's secretary asking her if she could hop across to Prague to meet the director. For a year, Imtiaz had been looking for the girl who could embody Heer's heart and spirit in Rockstar. "And Nargis has that depth," he says. Yet, she not having heard of him, was understandably wary. But the young director charmed her and she fell in love with the script almost right away. The role wasn't offered to her on a platter though-she was asked to fly to Mumbai, get prepared and then audition. "What did I have to lose, I figured?" she says with a shrug. Then began two months of gruelling training-she spent 10 hours a day learning to intone in Hindi and "doing weird exercises like staring at the wall'. Her turn as the gregarious Kashmiri Heer came under heavy fire from critics, though. She is wise enough to understand where she went wrong.
"There was nothing soft or Indian about my expressions and movements. And I grew up with rap and hip-hop. My hips go outward where yours go inward," she explains. "But I'm working on it. When the day of my transformation comes and I can see it, it'll be the biggest feeling of success," she adds. Talk to Imtiaz about her and he's full of praise. "Nargis has crazy energy," he says. "She is extremely perceptive and has a deeper soul than most other people. She can be many people at the same time. She will energise you just with her presence." And I can see what he means.
Nargis signed her next film Khiladi 786 with Akshay Kumar (produced by his banner Grazing Goat Pictures) early last month. And as part of her contract, she will be doing three films with the banner.
She's excited about the opportunity but you get the sense that she's waiting for something more… something larger, which doesn't have much to do with signing films or endorsing brands. She vaguely alludes to it too: "I want to help people, be of some service, you know. Maybe become like Oprah some day!" For now, even though she cops to feeling overwhelmingly lonely often, she's happy experiencing her own journey and learning in the process. "I'm not a quitter. I want to see how far I can go," she signs off.
लगातार ऑडनारी खबरों की सप्लाई के लिए फेसबुक पर लाइक करे